The 40th Athens Authentic Marathon is approaching and we are excited to be there! Around 21,000 runners are expected to stand at the starting line of the anniversary running event, who – together with all of us – will carry the history of the race to the finish line at the Panathenaic stadium.
WE ARE WAITING FOR YOU AT THE OPAP MARATHON EXPO!
The OPAP MARATHON EXPO is a particularly important part of the Athens Authentic Marathon, as it is part of the running experience, but also the first stop for all runners, where they pick up their kit.
Meet us at kiosk 56 of the OPAP MARATHON EXPO and become part of our #evolutioncomesnaturally movement. There, you will have the opportunity to exchange valuable marathon tips with #teamAMINOANIMO runners, discover how our organic proteins improve your athletic performance, try energizing protein bars, take part in exclusive competitions, and win unique gifts. Part of the proceeds from the purchases at our kiosk will be offered to support the Panhellenic Association of Parents, Guardians, and Friends of People with Visual Impairments and Additional Disabilities "Amimoni".
Faliro Indoor Stadium (formerly Tae Kwon Do)
Wednesday, November 8th, 13:00 – 20:00
Thursday, November 9th, 10:00 – 20:00
Friday, November 10th, 10:00 – 20:00
Saturday, November 11th, 10:00 – 19:00
"THE STARTING LINE" PROTEIN MENU WITH TO BAZAKI JUICE BAR
If you are preparing to run 42km, 10km, or 5km, we want you to stand as healthy as possible at the starting line of the Athens Authentic Marathon. That's why, together with TO BAZAKI juice bar, we created a special sports menu of delicious protein meals, recovery smoothies, and super hydrating juices. Based on the know-how and experience of the two teams, "The Starting Line" menu will increase your performance, properly hydrate your body, and immediate your recovery both before and after the marathon. With every order, we give you an AMINO ANIMO protein single-serving as a gift to boost your energy.
Try "The Starting Line" protein menu at the TO BAZAKI juice bar store (Aristotelous 33, Chalandri) or order it online.
"Beetroot shot"
"Beetroot & sports performance" juice with beetroot, orange, ginger, lemon, apple and AMINO ANIMO Pea Protein
"Active Carbon" smoothie with AMINO ANIMO protein
Protein smoothie bowls with AMINO ANIMO protein
Almond bar with AMINO ANIMO Almond Protein
"Carrot and rejuvenation" juice with orange, apple, carrot, pineapple and AMINO ANIMO Rice Protein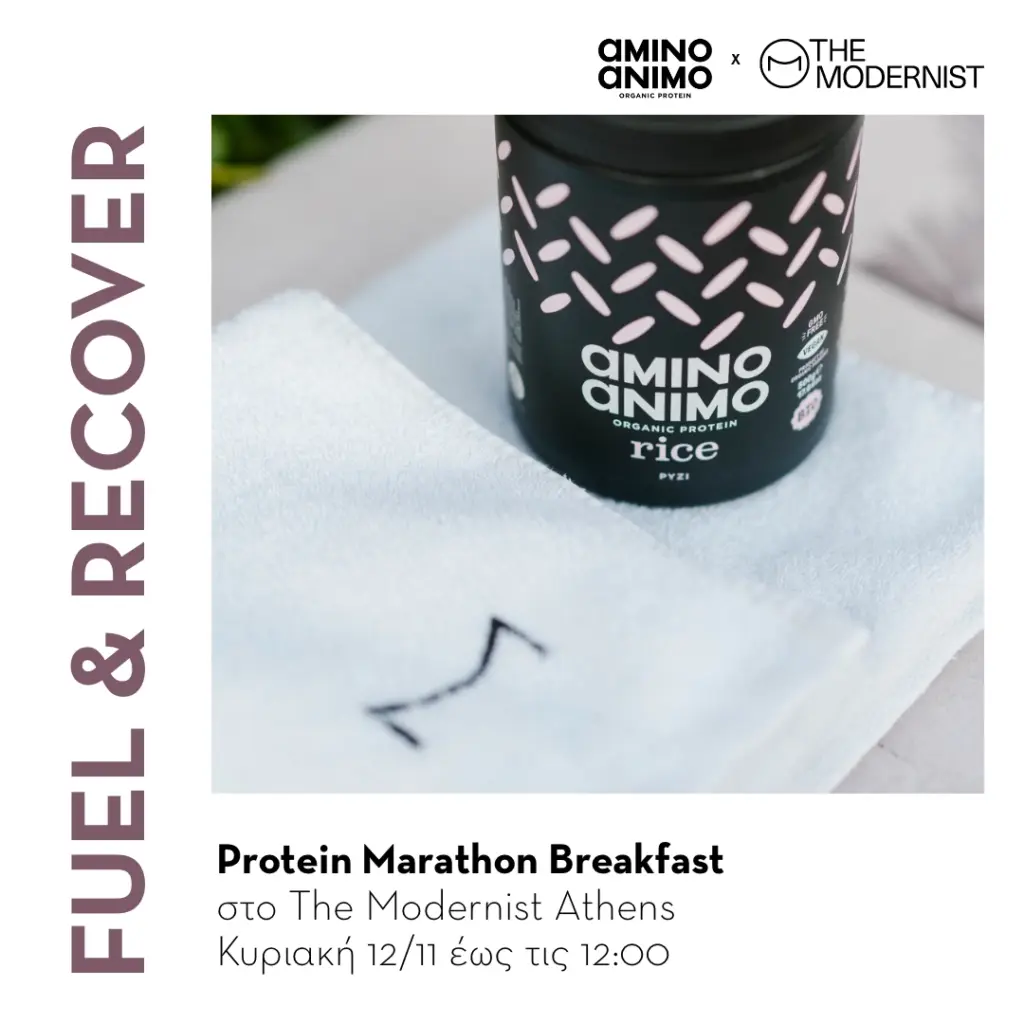 "FUEL & RECOVER" BREAKFAST & BREAKFAST BOX WITH THE MODERNIST ATHENS
You only need to focus on your race! We take care of your recovery in collaboration with The Modernist Athens, through the exclusive "Fuel & Recover" Breakfast & Breakfast Box. On Sunday 12/11 until 12:00, the delicious breakfast buffet of The Modernist Athens is enriched with even more healthy options (recovery smoothies, nutritious overnight oats, and refreshing yogurt bowls) with AMINO ANIMO organic protein, and invites you to enjoy it unlimitedly, whether you are a hotel guest or not.
Make your reservation today at 2160002130! If you are still in a hurry, we have also created the "Fuel & Recover" Breakfast Box for takeaway. The "Fuel & Recover" Breakfast & Breakfast Box is enhanced with nutritional advice by nutritionist-dietitian Ilia Alexiadi-Smirniotakis of the Riza Wellness nutrition & wellness center.
Sunday 12/11 (until 12:00)
By phone reservation The Modernist Athens (Ioannou Gennadiou 4)